Future Drought Fund Soil Carbon Project
The Kiewa Carbon Bash
Kiewa Catchment Landcare Groups (KCLG) is currently delivering an Australian Government Future Drought Fund project focused on soil carbon in the Kiewa Valley in North East Victoria. The project is being delivered from October 2021 to August 2022.
Working in partnership with David Hardwick from SoilLandFood the project aims to build the capacity of land managers and the community to understand what is meant by soil carbon and carbon farming methods approved by the Clean Energy Regulator in accordance with the Emission Reduction Fund.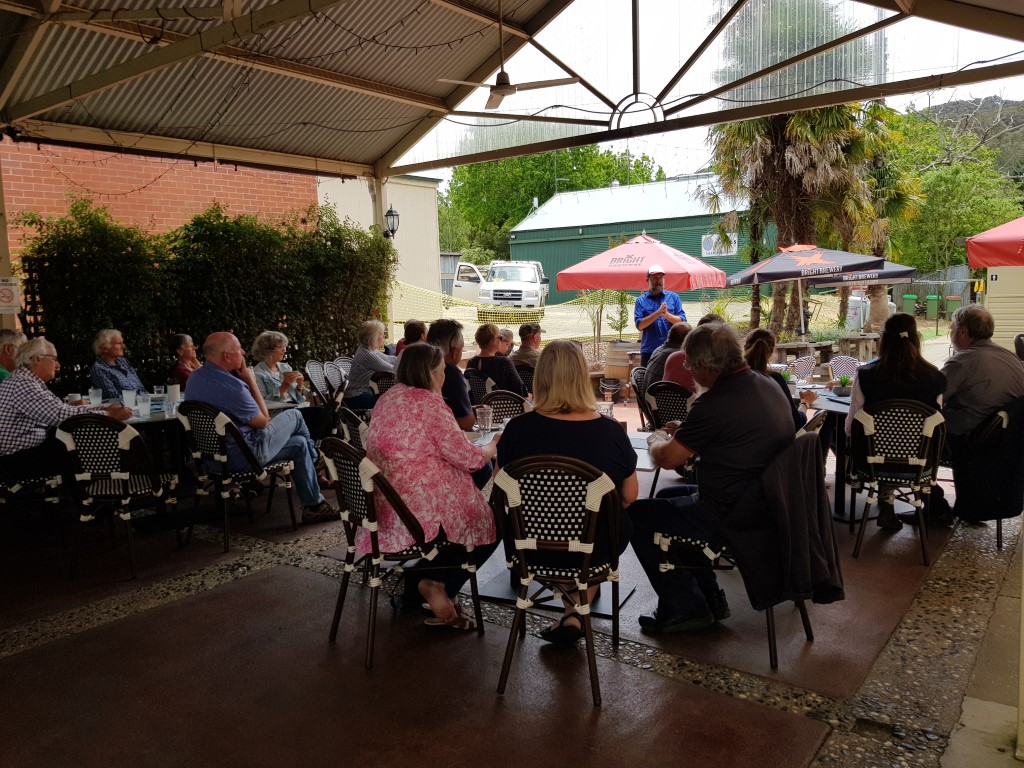 David Hardwick from SoilLandFood presenting 'Soil Carbon 101' at the first information session in Yackandandah in November 2021.
Enhancing soil carbon has multiple benefits for communities and farmers such as increasing groundcover, reducing moisture loss, improving resilience to temperature extremes and improved water holding capacity during rain and flood events. These landscape function benefits improve productivity of agricultural enterprises and therefore help to secure food production and prosperity in local communities.
Under the Australian Government Emission Reduction Fund farmers can also earn an alternative income stream from carbon farming. This project will also assist landholders to better understand the process involved for registration, approval, and payment for the generation of carbon credits.
The project involves four demonstration farms in the Kiewa valley located on different soils and topography and running different enterprises (beef, dairy and sheep). Each of these demonstration farms will trial a range of methods to improve soil carbon, and thereby soil health on their properties. Each demonstration farm will be made into a digital case study for broad dissemination on completion of the project.
KCLG are running a number of workshops around these demonstration sites, and everyone is welcome to attend. Please check our Facebook site, newsletter or follow Kiewa Catchment Landcare Groups on Eventbrite for dates on upcoming workshops.
January 2022 Update
Kiewa Carbon Bash Soil Carbon 101 Recording
For those who missed our recent Soil Carbon information sessions or wish to re-cap on Soil Carbon 101 presented by David Hardwick from SoilLandFood click here for a copy of our recorded webinar: https://www.youtube.com/watch?v=D03rxSLqIzE
Dates for our next series of workshops coming up in February will be released over the coming days!
February 2022 Update
Our first round of field workshops on each of the demonstration farms were held in late February 2022 with David Hardwick, SoilLandFood, Dr Greg Bender, Australian Soil Management and Nick McGrath, McGrath Soils. Participants learnt about the different soil carbon methods being undertaken on each of the demonstration farms including mixed pasture species, rotational grazing, composting, gypsum, keyline and biologicals. They also saw how soil testing is undertaken.
See highlights from these days on our YouTube channel KCLG video prepared by GriggMedia below
See video of Prime News cover of the first carbon farming workshop
May 2022 Update
Please see flyer and eventbrite link below to register or share for our next installment of the Kiewa Carbon Bash. This workshop will showcase several local carbon companies and focus on the carbon market and trading aspect of the project. It will have several presentations and displays with plenty of q & a with the companies on the day. It will be held at the Union Hotel in Tangambalanga, a free & catered event, and as always - all welcome.

https://www.eventbrite.com.au/e/kiewa-carbon-bash-soil-carbon-companies-traders-workshop-tickets-339693852457